Dog Friendly 🐾
Advance booking essential
We are delighted to welcome dogs to Chapel House. There are plenty of local walks, by the canal, river  and across fields, for you and your 'best friend' to stretch your legs.
We have a selection of specially-allocated dog-friendly bedrooms so it is important to notify us in advance that you will be bringing your dog with you.  Please message us directly or telephone 01827 718949 for more information and to check availability.
You will find plenty of doggie treats in your room on arrival, including a comfy dog bed, towel, bowls, a welcome goodie bag, and a sausage for breakfast.
A small paw-print charge of £10 per night will apply to cover additional cleaning required.
BOOK NOW – 01827 718949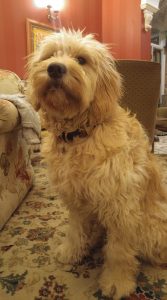 "Crumble" – our own pet-in-residence is an adorable Goldendoodle (b. April 2019).   She has the looks and temperament of a teddy bear and has tried and tested all the local walks. She looks forward to making new friends.
PAWS FOR THOUGHT:
We look forward to welcoming you and your dog however, for your comfort and that of our other guests, we simply ask that you follow a few guidelines:
You take full responsibility for your dog
Your dog should be well mannered and kept on a lead when in public areas
You are fully responsible for cleaning up after your dog when in our grounds and gardens
You are fully responsible for any noise disruption caused by your dog and any damage caused by your dog will be charged
We request no more than two dogs per room
Dogs are not permitted in the restaurant however we allow dogs in the Garden room – please let us know if you would prefer to dine with your dog, or with other humans.